Rapallo - Zoagli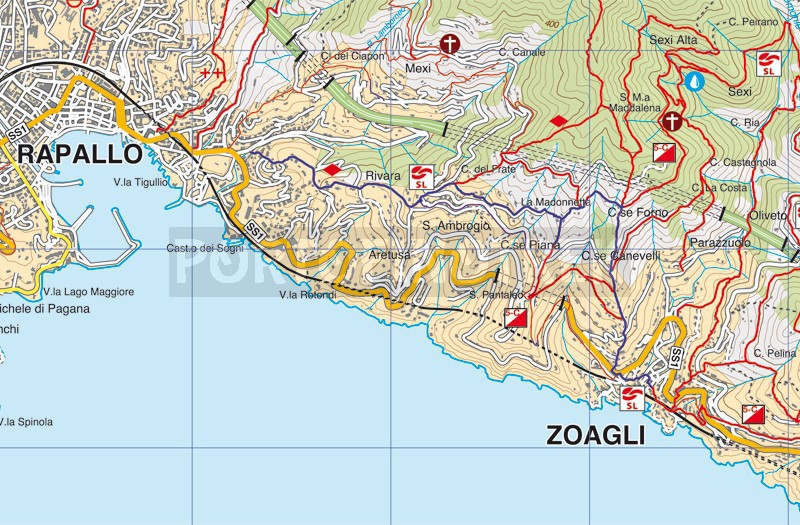  
Difficulty
Low
Duration
1h 30'
Length Km.
3,740
Footpath signs
+
10m - 290m | 335m | 334m
Starting point
This route starts in Rapallo in the district of Seglio in Via Pietrafraccia.
Immediately after taking the road, after about fifty meters we find on the right a small bridge and a sign indicating "S. Ambrogio ", cross it and start walking up the fairly steep staircase marked with the red rhombus symbol (

) which we will follow for the first part of our journey.
This first stretch is not a real path, it alternates steps with cemented pedestrian and vehicular parts which cross fields and private properties with villas and beautiful views of Rapallo and the Portofino promontory.
After about 15 minutes you arrive in S. Ambrogio with a beautiful panoramic view and its church which is worth a visit.
We continue uphill towards S. Bernardo on the driveway, which we leave after about hundred meters by turning right, continuing to the right of the small church and turning right again immediately following the yellow signpost belonging to the paths of the Municipality of Zoagli.
We continue until we meet an uphill road (Scalalunga locality) which we follow to its end until the path begins where we find the indicator n° 25, which, climbing further, will take us to the locality of Forno Vallette (

) where we find the indicator number 24 where, turning right, we begin the descent towards Zoagli. We cross Via dei Lecci continuing to descend.
We turn right as soon as we meet on the stairway that descends the indicator n° 70, and we continue on the flat until we reach the pedestrian crossing on the Via Aurelia. We cross the road and go down about twenty meters to a portal that we take to the right and allows us to go down on Via Antica Romana and arrive after about 300 meters at the picturesque village of Zoagli.
Unlock, view and download the trail track by purchasing a map.
Data sheet
Time

From 1h to 2h

Length Km

2 - 4

Difficulty

Low
100% secure payments