Short trail ring Montepegli and Ciamazù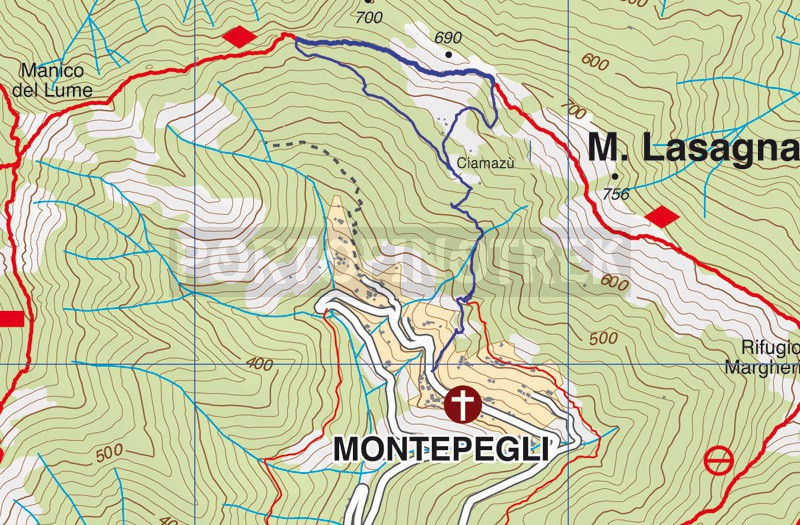  
Difficulty
Medium
Duration
1h 40'
Length Km
3,100
Footpath signs
+
316m - 657m | 394m | 394m
Starting point
We are proposing here a short but quite challenging itinerary for the initial climb and not recommended when the ground is too wet because the return could be very slippery.
The departure is from Montepegli , a hamlet of Rapallo that can be reached from the motorway tollbooth following the direction for San Pietro di Novella and, after the cemetery, at the crossroads, continuing to the right.
Once you reach the first houses of the small village, park your car in the first available place along the road and continue until you find, on the left side of the mountain, a very artisanal sign indicating the direction for the Margherita Refuge.
The footpath sign is 

and the path starts by a concrete staircase and continue uphill, following the path that, at a certain point, crosses a private road. In short you come to a crossroads: we kept the left because it is the shortest way but it is also possible to go right because then both paths reconnect immediately afterwards.
A little further uphill into the woods and you will arrive at a beautiful plain, called the Cian mazùn, where a stone cottage stands.
Here there are two signs: one higher up indicating the direction to the Margherita Refuge on Monte Pegge and one down, on the left, which goes towards Manico del Lume. We choose the latter and walking on the flat we find ourselves on a path initially wide and very well kept, where you can see the remains of ancient cottages, which then continues uphill in the woods to emerge at the base of a hill characterized from large stones and a hiding place in wood and leaves, used by hunters.

Here, continuing to the left, you will reach the summit of the Manico del Lume. We enjoy the view of Rapallo on one side and Fontanabuona on the other, before taking the road back.
Take the narrow and level path that goes towards Monte Pegge folowing

, which we follow for about 500 meters until you meet, on the right, near a makeshift shelter, the signs for Montepegli.
The path descends into the woods with some sections that could be a little slippery (not recommended when too wet) and soon takes us back to the Piana di Masone, and from here, following the same path as the outward journey, to the starting point.
Unlock, view and download the trail track by purchasing a map.
Data sheet
Time

From 1h to 2h

Length Km

2 - 4

Difficulty

Medium
100% secure payments