Chignero - Passo serra - Serra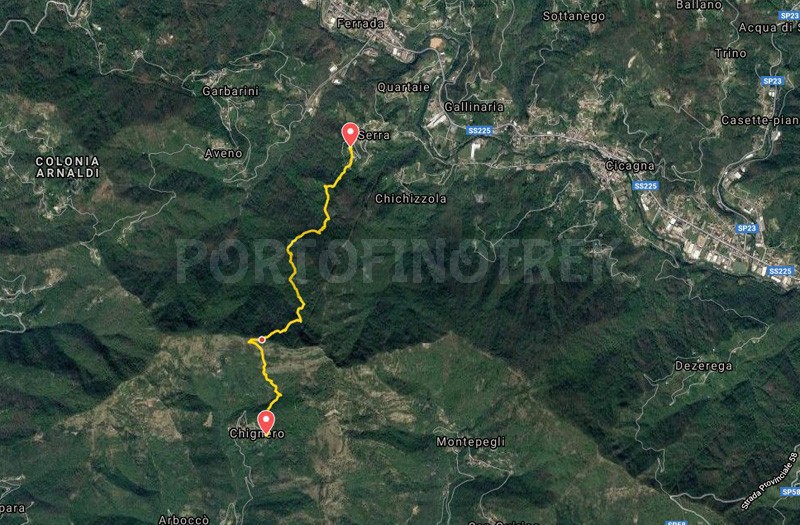  
Difficulty
Medium
Duration
2h 00'
Length Km
3,700
Footpath signs
281m - 636m | 460m | 542m
The destination of our itinerary is Serra di Cicagna , a small and characteristic village in Val Fontanabuona.
We started from Chignero, a hamlet of Rapallo, to return to the starting point we followed the same path again, but once you arrive in Serra you can continue towards to Quartaie on the main road and from here by bus ATP reaching Chiavari and than Rapallo by train.
The starting point is Chignero , a hamlet of Rapallo, which, as we have already pointed out in other itineraries, does not offer many parking possibilities, so we recommend arriving by scooter or by bus, active however only on weekdays (check here the time table).
After a few meters on the paved road that climbs up next to the church, continue to the left following the path marked with

which climbs up to Passo Serra; a path that after having crossed a wood and a small stream always dry, becomes gradually more open and less steep offering a spectacular view of Rapallo and the surrounding peaks. Between May and July this stretch of the route turns yellow due to the flowering of the numerous broom plants.
In about 40/45 minutes you will arrive at the crossroads where the F.I.E. has well marked all possible directions on a rock.
Continue to the right for 50 meters until you find a wooden panel that indicates the direction of Serra (estimated time 45 minutes).
From this moment there is no longer any signpost, but there is no possibility of making a mistake.
The path descends into the shady wood, with some passages on stony ground that requires a minimum of attention and a few felled trees that must be bypassed but overall it is a pleasant path.
As you approach the Fontanabuona you can see a different vegetation, more similar to that of the Val D'Aveto, characterized by chestnut and oak trees.
After passing two dry streams, you come out of the wood and meet the first rustic stone from which you can enjoy a beautiful view of the villages of the valley, a few more meters and you arrive at the asphalted road before entering the heart of the quiet village of Serra and, crossing it, arrive at the square of the parish church of San Bartolomeo.
Arriving at lunchtime you can take advantage of a stop at the Trattoria Malatesta Mara , which we have not had the opportunity to try but has excellent reviews.
Unlock, view and download the trail track by purchasing a map.
Data sheet
Time

From 2h to 3h

Length Km

2 - 4

Difficulty

Medium