Chignero - Pendici Monte Bello - Monte Bello - Monte Borgo - Passo Serra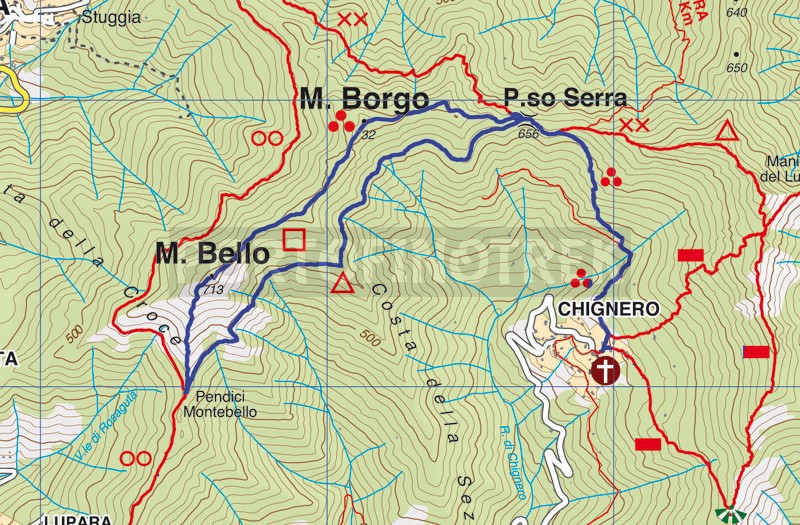  
Difficulty
Medium - High
Duration
3h 30'
Length Km
6,300
Footpath signs
+ +
375m - 730m | 425m | 640m
Starting point
The itinerary we are proposing NOT is suitable for everyone due to the return path from Monte Bello to Passo Serra, via Monte Borgo, but it is possible to return to Passo Serra following the same path as the outward journey.
The starting point is in Chignero, a fraction of Rapallo which is about 5 kilometers from the motorway exit, where you may encounter car parking problems, so we recommend getting there by scooter. The small hamlet is also served by buses but only from Monday to Friday (check the schedule here)
After a few meters on the paved road that climbs from the church, continue left following the path marked with

which climbs to Passo Serra with a path that, after crossing a wood, becomes gradually more open and less steep, offering a spectacular view of Rapallo and the surrounding peaks.
Arrived at the ridge of the mountain, follow the

walking the narrow path which, advancing mostly flat, in about 20 minutes, reaches the slopes of Monte Bello.
Here you go down towards the south, always following the signpost, until, after about 10 minutes of descent, you find a empty square sign (

); at this point you leave the triangle to follow the square and climb, quite quickly, with passages on rocks, up to the summit of Monte Bello (713 a.s.l.), where the effort is rewarded by the tranquility of the place and the surrounding landscape and breathtaking views.
To comeback to Passo Serra you have to proceed on the crest following the footpath sign

.
Now follow this narrow path which continues east with crest passages on rock alternating with passages on grassy ground, until you descend into the bush and find yourself in front of the rock that climbs to Monte Borgo. Here you have to climb slightly, bypassing the rock, finding the path that now descends into the woods, where following sthe same foothpath sign, you will soon find yourself at Passo Serra.
From here it is enough to retrace the path of the outward journey which, in about 20 minutes, leads to the church of Chignero, the starting point of our excursion.
Unlock, view and download the trail track by purchasing a map.
Data sheet
Time

From 3h to 4h

Length Km

6 - 8

Difficulty

Medium - High
100% secure payments
You might also be interested in