San Quirico d' Assereto - Monte Pegge - Montepegli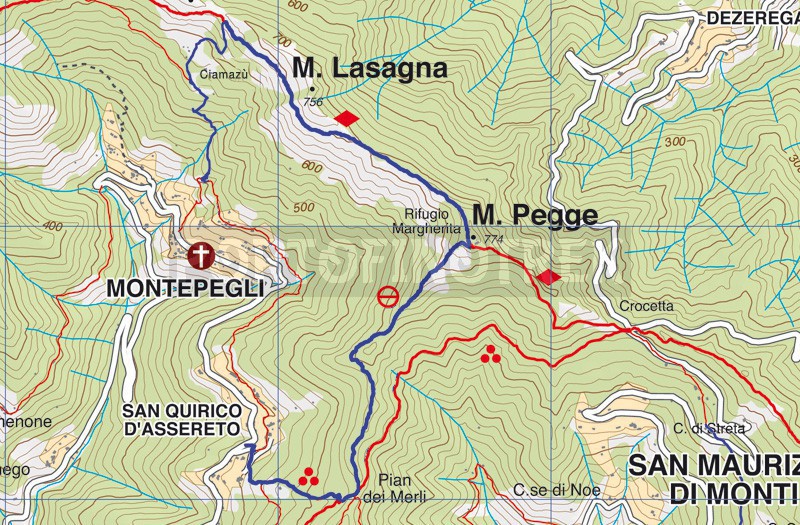 Difficulty
Medium
Durata
2h 30'
Length Km
4,500
Footpath signs
+ + +
313m - 748m | 389m | 435m
Starting point
Rapallo has a dense network of paths that in ancient times connected the different hamlets but which after the construction of the more comfortable asphalted roads, has been partly abandoned and neglected. Our search for these ancient mule tracks has allowed us to build a very pleasant loop itinerary.
The departure is from San Quirico di Assereto , a nearby hamlet of Rapallo which can be reached in 10 minutes by car from the motorway exit and connected to the city center by small buses. The path starts near the church and the cemetery which can be reached via a short concrete slope; after a few meters you leave it to proceed, on the left, on the well-marked mule track with

, which climbs into the woods, sometimes with irregular stone steps, and in about 20 minutes you will reach Passo San Quirico , also known as Pian dei Merli, a beautiful lawn with an old stone house now abandoned, reflecting the ancient settlements.
Cross the lawn to resume the path towards the north (going down to the right you can reach the Monte delle Pozze and the "Black Madonna") and at the crossroads, leave the path on the right that leads to Passo della Crocetta, continuing to the left following the sign towards "Monte Pegge" and the

.
Initially it advances on level ground then gradually gains height and culminates with a passage on the rock and a 360° view of the surrounding mountains that precedes the arrival at Rifugio Margherita, on Monte Pegge.
After a stop to admire the view, go around the refuge on the left, where tables and wooden benches have been placed, and proceed until you find the path marked by a

. You go down in the middle of a hazelnut wood and then continue along the coast and on the flat, on a narrow but well-kept path, completely open that advances towards the Manico del Lume.
WARNING: The detour to go down to Montepegli is not marked and much less it's obvious. It is located just under 1.5 Km from the Margherita Refuge, a shelter made of sheet metal and wood under the path is the point where you have to start to descend.

There are no signs but the path is clear and going down into the bosco will come up to find a stone cottage placed on a beautiful lawn where there is also a cableway used exclusively for transporting materials. In front of the cottage you continue to descend now on a stone staircase

(in the rain it is very slippery), you'll cross a small dry stream and gradually you'll get closer to Montepegli always keeping to the mule track that cuts the new concrete road in several points.

Once on the main road, continuing to the left in about 10 minutes you will return to San Quirico d'Assereto, to the starting point.
Unlock, view and download the gpx track by becoming a Supporter.
Data sheet
Time

From 2h to 3h

Length Km

4 - 6

Difficulty

Medium
You might also be interested in