Montallegro - Passo della Crocetta - Rapallo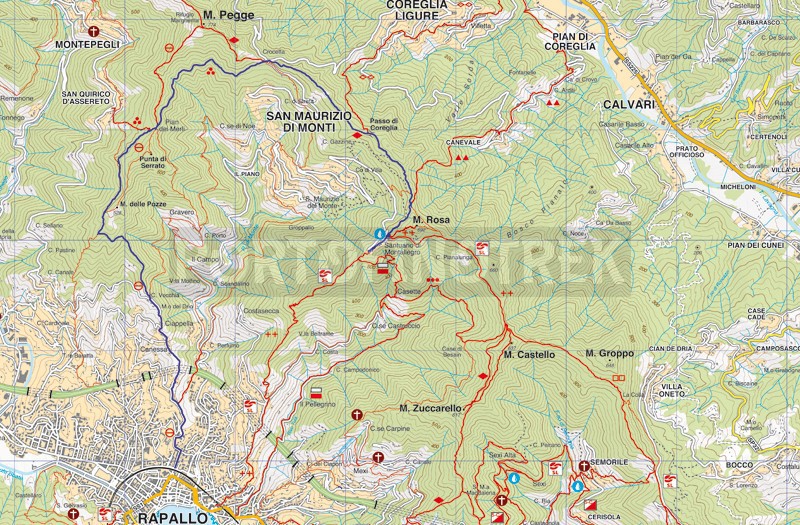  
Difficulty
Medium
Duration
3h 00"
Length Km.
8,500
Footpath signs
+ +
2m - 652m | 256m | 830m
Starting point
This itinerary can be considered the continuation of the Rapallo - Montallegro path described here , or simply a nice route to combine with an ascent to the Sanctuary in cable car . The only water tap of the whole itinerary is located behind the church of Montallegro.
The itinerary starts behind the Sanctuary of Montallegro with the path on your left (going on the path on the right you will reach Chiavari while continuing straight, you will climb to Monte Rosa). You will notice that this stretch is marked by several trail signs, you must follow the red diamond (

). However, it is impossible to make a mistake, just keep going straight, ignoring the detours on the right that lead to the Fontanabuona.
This is a beautiful path, initially paved, which alternates passages in the woods with more open spaces that allow you to enjoy a beautiful view of Rapallo. After about 30 minutes of pleasant walk on the plains, a slight descent precedes the arrival at Passo della Crocetta , where you will find a small chapel.
Now cross the road and take the flat path on the left (the uphill one will arrive at the Margherita Refuge and Monte Pegge) which starts surrounded by brambles but soon becomes easier and cleaner. Now the signpost to follow is made up of three dots (

).
Always continue straight along the path (in some places it is very narrow) which walks in the middle of lush vegetation and offers sweeping views of Montallegro and San Maurizio dei Monti.
When you meet the path that comes from Monte Pegge , the signpost to follow becomes a crossed out circle. (

)
After passing Pian dei Merli , a meadow with two old stone ruins, always keep to the same path which after a flat stretch begins to descend into a beautiful wood of chestnut and oak trees. After about 20 minutes you will come out of the wood and you will meet a small paved road, in Madonna Nera place.
Continue left to take the initially very scenic mule track, which descends between olive groves and beautiful villas. Cross the driveway you meet shortly after to take the path that arrives at the small white church of Sant'Agostino .
Here, take the path on the left which crosses a first group of small houses to immediately pass over the municipal cemetery.
The last stretch of the route consists of Salita Sant'Agostino , a steep asphalted descent that leads you behind the Rapallo train station (with the underpass you reach Piazza delle Nazioni and therefore the of Rapallo).
Unlock, view and download the trail track by purchasing a map.
Data sheet
Time

From 2h to 3h

Length Km

8 - 10

Difficulty

Medium
100% secure payments