Rapallo - Santa Margherita Ligure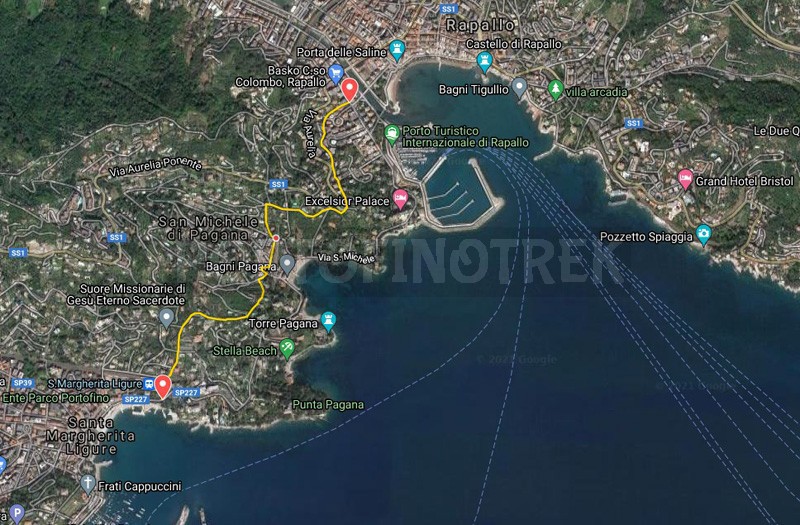  
Difficulty
Low
Time
40'
Lenght Km
2,100
Signs

None

2m - 82m | 143m | 140m
This does not suggest that there is a hiking trail, but a nice walk that connects Rapallo and Santa Margherita Ligure, avoiding the traffic of the road coast.
The starting point is in Corso Colombo, near the Hannibal Bridge. Here, take the path next to the bridge, which passes between the condominiums and climbs up to Via Aurelia di Ponente and without difficulty find immediately on the left, via San Nicola, the pedestrian path that advances between the fencing walls of beautiful villas, offering, here and there , panoramic views of San Michele di Pagana bay. Ignore all the detours you encounter (the ones on the left all go down towards the beach) and go straight on to come out on a carriage road in San Michele di Pagana.
Here take Via degli Aranci, the staircase you see immediately on your left that goes down and along the railway and the old train station crosses Via Meucci, which you have to walk right for a few meters, then continue on Via Fioria, towards the sea until to locate, before passing under the railway bridge, on the right, via Donega.
The trail is called Via Banchi, rises between two high stone walls and reaches a first junction where you turn right to meet Passo dell'Alloro. Here you go left passing close to some houses, to get to a staircase where you can enjoy wide view of Santa Margherita Ligure.
Walk down the stone steps that, with a pass over the railway station, take you to Santa Margherita Ligure.
If you want to continue to Portofino from Santa Margherita follow this route