Trail from Rapallo to Monte Pegge and Margherita refuge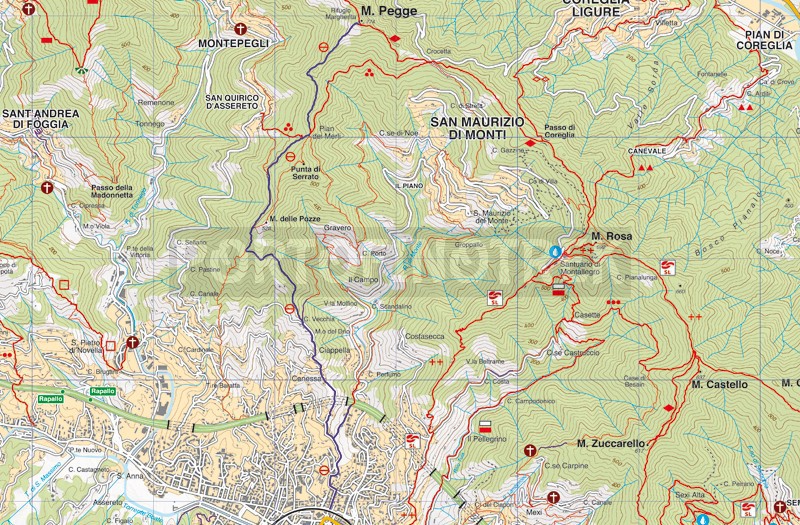 Difficulty
Medium
Duration
2h 50'
Length Km
5,300
Footpath signs
20m - 741m | 789m | 52m
Starting point
The starting point is in Rapallo on Salita S. Agostino, just behind the train station where the trail marker is clearly visible

Follow the paved road that ascends quite steeply. Once at the top, turn left and continue on the pedestrian path that keeps climbing, passing over the cemetery and then behind the neighborhood called Guardastelle.
After crossing a tiny cluster of houses, the path reaches the S. Agostino location, recognizable by the charming white church. The trail continues to the right of the church, ascending amidst olive trees, cultivated terraces, and a few scattered houses. When emerging from the vegetation, turning around, you can admire the beautiful panorama of Rapallo bay.
After about 200 meters, you reach the Madonna Nera location, where a small chapel stands on private property. A final flight of stairs leads to the end of Via dei Poggi, which you leave after a few meters to continue into the woods.
At the fork, keep to the left, always following the same trail marker.
The trail ascends through a lovely chestnut forest for about twenty minutes, reaching the slopes of Monte delle Pozze. It then continues more level along what's called the Strada vicinale delle Pozze and arrives at Pian dei Merli or Passo di San Quirico (from here, in fact, you can descend to the Rapallo district of the same name in 15 minutes), where there's a nice meadow and the remnants of two stone houses.
After a few meters, you reach a junction. Both paths lead to Monte Pegge (to the right, you reach Passo del Crocetta and from there ascend to the summit), but we keep to the left, still following the barred circle marker.
The initially flat path crosses through the undergrowth and leads to the western slope. Gradually, it starts ascending on rocky terrain, offering a very open view of Rapallo and the surrounding peaks.
A slightly challenging final section precedes the arrival at Monte Pegge (775m above sea level), where Rifugio Margherita is located—a shelter for hikers, open all year round, managed by the alpine group of Rapallo.
Monte Pegge is a strategic point that allows you to continue in various directions.
Unlock, view and download the gpx track by becoming a Supporter.
Data sheet
Time

From 2h to 3h

Length Km

4 - 6

Difficulty

Medium