Portofino vetta - Pietre strette - felciara - bocche - Portofino vetta
 
Difficulty
Low
Time
1h 50'
Lenght km.
4,650
Marker
+
414m - 473m | 228m | 227m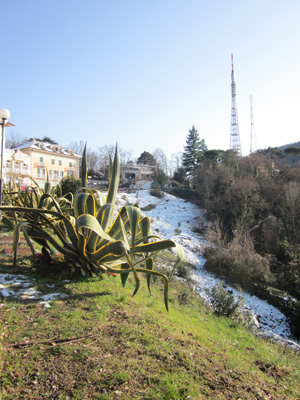 This is a short ring itinerary from Portofino Vetta that presents no difficulty, and can also be walked with children.
Once in Portofino Vetta , take the access stairway to the Park which is located behind the Hotel.
Turn right and continue straight on the wide gravel path, ignoring the various detours you will encounter while walking. A first rest area equipped with table, benches and drinking water tap, in Gaixella , is followed by another in Pietre Strette , an important crossroads of Monte di Portofino.
Pass this suggestive corner, characterized by imposing conglomerate boulders, continue on the main path to leave it a few meters further, to continue the path to the right with indication Base0.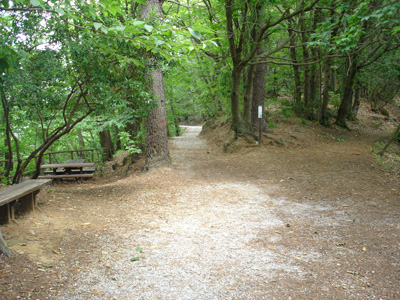 The path, which follows the ridge of the mountain and has some panoramic points, advances on a slight slope up to Felciara , a clearing in the middle of the ferns equipped for a rest with wooden tables and benches.
Now continue to the left on the path that begins to descend immediately afterwards into a shaded valley arriving in Bocche , on the main path Portofino Mare - Portofino Vetta. Here you will find other wooden benches and tables and a drinking water tap.
To return to Pietre Strette, turn left and continue straight ahead, pausing for a moment to admire the view from the position you find, after about 200 meters, on your right.
Once in Pietre Strette, simply retrace the outward journey to find yourself, after about 20 minutes, at the Portofino Vetta car park.
Become a supporter to view the GPS track
Data sheet
Time

From 1h to 2h
Support us
Thanks to your contribution we could keep the site up to date and providing an ever better service.
By becoming a SILVER supporter you will have the following privileges:
Browse the site without ads banner
Have priority in communicating with our staff
By choosing to become a GOLD Supporter you can also:
View and download the tracks of each route
Have access to the map of all the paths traced by Portofinotrek
Click here and become a supporter right now!