Short circular trail from Chiavari to Curlo and back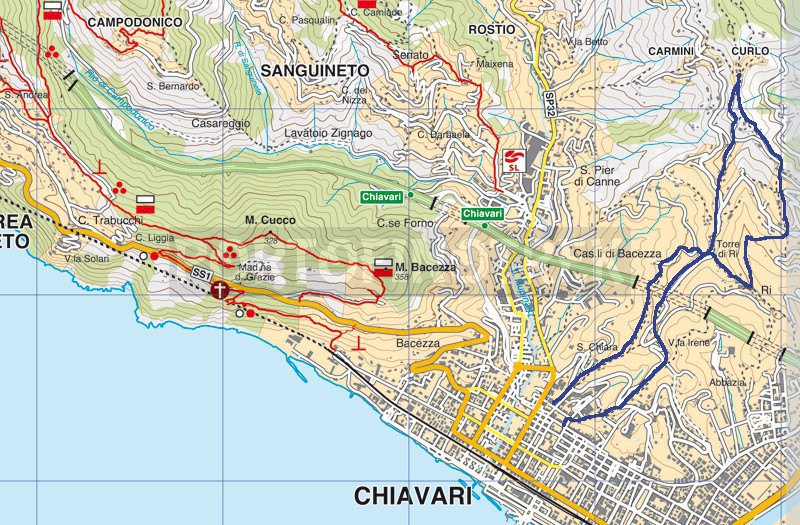  
Difficulty
Low
Duration
2.00h
Length Km
5,800
Footpath signs
+
5m - 260m | 351m | 351m
Starting point
This we propose is a short circular itinerary, suitable for everyone and which crosses some small hamlets of Chiavari, perhaps unknown to many people.
The start is in the center of Chiavari , just behind the Church of San Giacomo di Rupinaro where you take Salita Levaggi, a staircase that climbs between the houses and leads to the upstream ring road. Cross it continuing on Salita San Nicola, a mule track which climbs gently along beautiful houses, until you will arrive at a crossroads where you have to take the path on the left walking on a long stretch between the typical Ligurian bands, marked by

, which ends on the driveway that you go uphill until you cross the main road.
Turn left for a short distance until you intercept on the right Salita San Michele a " crêuza " (Ligurian mule track) which, offering some glimpses of the sea, leading to the church of San Michele in Rì Alto , characterized by the beautiful churchyard and a breathtaking view over the entire Gulf.
Go down for a few meters and after passing under the portico of a pink house, turn left and, crossing very tidy strips of olive trees, you will cross the paved road (Via case sparse di Rì Alto). Right in front of you, you can see a stairway that goes up, you go all the way up to the hamlet of Case sparse di Rì Alto.
Continue for a few meters on the paved road and then climb 3 steps on the right on the path that climbs towards Curlo . After passing the small cemetery you arrive shortly after, to the beautiful church of San Tommaso .
After catching your breath, we set off again following the asphalted road of Via Belvedere which flows into Via Case Sparse and then into Via Rialto

and after about 600 meters, near a hairpin bend, take the staircase on the left to go down which crosses Via Ri Alto several times until you reach Via al Castello where it is possible to see (only from the outside), the ancient Castle of Chiavari, built in the Middle Ages.
We go down another hundred meters where our itinerary ends.
Unlock, view and download the trail track by purchasing a map.
Data sheet
Time

From 2h to 3h

Length Km

4 - 6

Difficulty

Low
100% secure payments