Camogli - San Rocco - Pietre strette - S. Margherita Ligure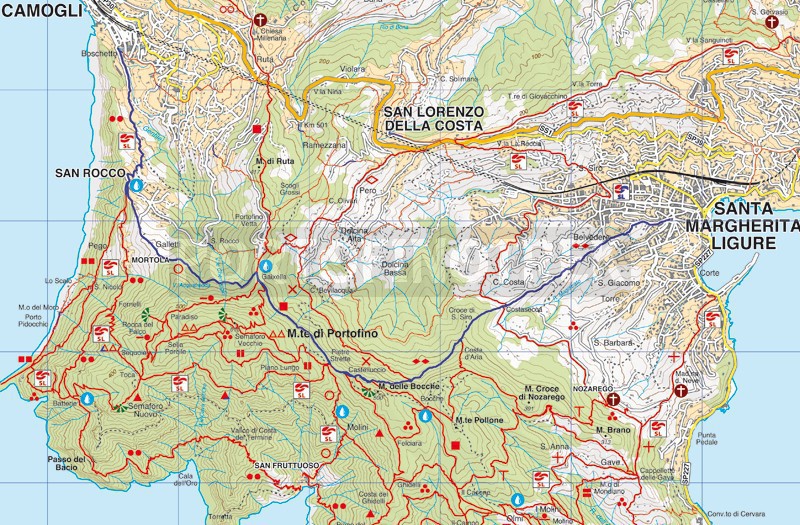  
Difficulty
Medium
Duration
2h 40'
Length km.
6,980
Footpath signs
+ + +
2m - 468m | 501m | 517m
Starting point
This path begins on via S. Bartolomeo (20mt. above sea level) a small road at the end of the parking lot which runs alongside the Gentile stream.
The path continues climbing and consisting mainly of stairs (about 900 steps), which passing through olive groves and high walls that hide splendid typical villas, and ends in front of the Church of San Rocco (220mt. Above sea level).
To proceed you have to take the path just behind the church, and climbing among the olive groves, passing through the Galletti village, and then proceeds through the woods up to to Gaixella (412 meters above sea level) a rest point equipped with benches, tables and one drinking water faucet.
This stretch of road, as can be seen from the ceramics on the facades of the houses and from the small altar in the woods, was once a reconstruction of the "Via Crucis".
From Gaixella take the path on the right towards Pietre Strette (464 meters above sea level.)
Continue towards Portofino direction and after about 10 minutes on the left, you will find the detour camouflaged by large rocks, to Santa Margherita Ligure.
The descent winds through a shady valley, it is quite steep and has some slightly irregular sections up to the Croce di San Siro (306 meters above sea level). From here you will passing thorough villas and gardens with some panoramic views of San Lorenzo della Costa on one side and the sea on the other side.
The route ends at the beginning of Via Costasecca, in Santa Margherita Ligure city center, just behind the town hall palace.

You can return to Camogli by train, bus or boat


Unlock view and download the trail track by purchasing a map.
Data sheet
Time

From 2h to 3h

Length Km

6 - 8

Difficulty

Medium
You might also be interested in