Camogli - San Rocco - Gaixella - Pietre strette - Semaforo Nuovo - Semaforo Vecchio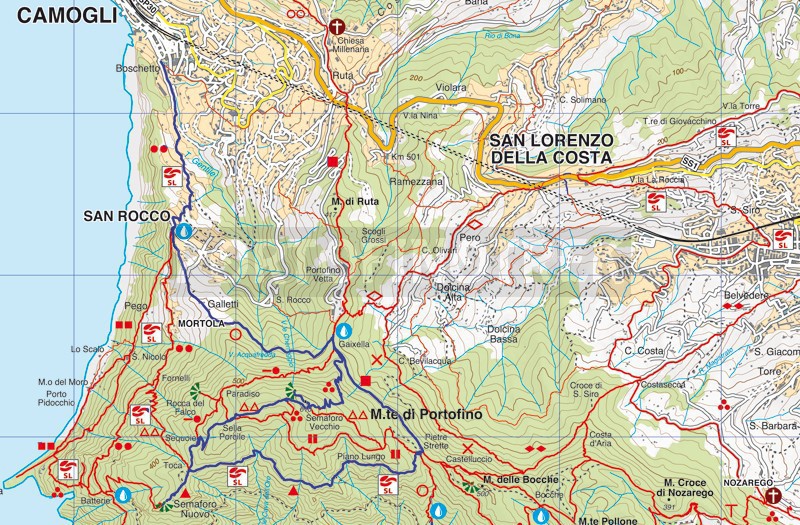  
Difficulty
Medium
Duration
5h 20'
Length km.
12,800
Footpath signs
+ +
17m - 603m | 898m | 1276m
Starting point
The trail begins on Via S. Bartolomeo (20mt. above sea level), the small street at the end of the parking lot close by the police station, along the first part, the Gentile stream.
The trail continues with a climb, consisting mainly of stairs (about 900), which, passing through olive groves and tall stone walls that hide so nice tipycal villas, arrives in front of the Church of San Rocco (220mt. above sea level).
From here you have to take the path behind the church and through the houses of Galletti and after a short stretch where you can admire on the walls of the houses and along the way, features hand-painted tiles that coverthe stages Via Crucis, the path enters the woods with a smooth path.
After about 35 minutes you'll arrive at Gaixella (410mt. above sea level) where there are some tables with wooden benches and a drinking water faucet. You go left and after a walk of 15 minutes to get to Pietre strette (465mt. above sea level).
When in here we get the path to Toca, turn immediately right (

). It 'a very pleasant path, with easy to medium difficulty offering different panoramic view points, after about 45 minutes you'll arrive at Toca (450mt. above sea level) and after another 5 minutes, you'll reach Semaforo nuovo (415mt. above sea level) where there are tables with wooden benches and where you can enjoy a very wide panoramic view.
We come back to Toca and when in there continue straight towards Gaixella and after 10 minutes, at the locality Paradiso (450mt. above sea level), take the path right towards Semaforo Vecchio and, after a few minutes of ascent, you'll arrive at Sella Porcile (510mt. asl), a very nice and quiet place surrounded by large pine trees and a picnic area.
We continue to climb and, after about 25 minutes you will arrive at Semaforo Vecchio (608mt. S.l.m.).
To return to the starting point we take the path that goes down wide and fairly easy to the left towards Portofino Vetta which allows us to arrive, after about 40 minutes, in Gaixella; here we retrace the route of the outward journey, descending first to San Rocco and then to Camogli.
Unlock, view and download the trail track by purchasing a map.
Data sheet
Time

From 5h to 7h

Length Km

10 - 15

Difficulty

Medium