Camogli - San Rocco - Punta Chiappa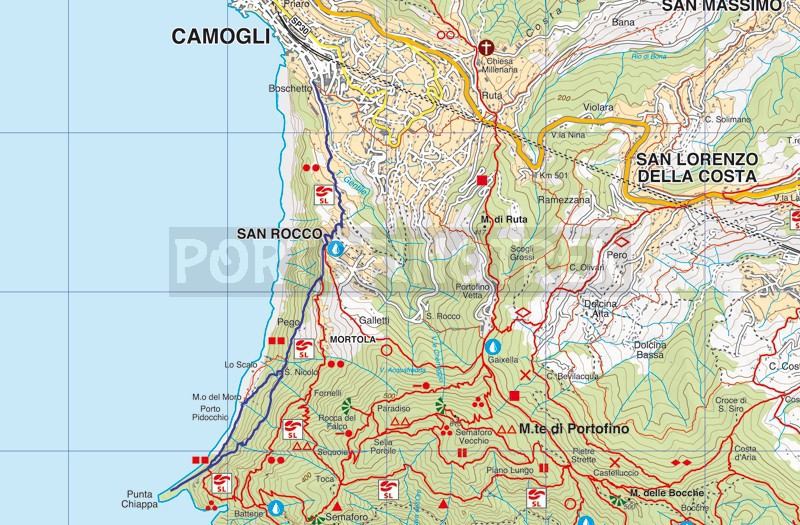 The trail begins on Via San Bartolomeo (20 meters above sea level), the small avenue at the end of the parking lot where the Carabinieri barracks is located. In the first part, it runs alongside the Gentile stream.
The mule track continues with an ascent, mostly consisting of steps (approximately 900), passing through olive groves and tall walls that conceal beautiful villas, emerging under the square of the Church of San Rocco (220 meters above sea level).
Here, besides admiring the enchanting panorama, you can continue in numerous directions: Portofino Vetta, San Fruttuoso, or Punta Chiappa. We are continuing our itinerary towards Punta Chiappa.
The trail is marked with

, and the clear indications from the Portofino Park allow you to follow it without difficulty.
After passing the square of the San Rocco church, continue on Via Mortola, the beautiful walk along the sea, and after about 200 meters, turn right, descending the steep staircase.
The shaded trail passes through some houses in some places until it reaches the small square of the medieval church of San Nicolò Capodimonte, which is worth a stop both to visit the church and to admire the view.
From here, there are two options to reach the sea: continue along the easy and short staircase that leads to Punta Chiappa (3 meters above sea level) by crossing the picturesque village of Porto Pidocchio, or take the small road to the left of the church.
We recommend, for the descent, to opt for the latter path, less traveled and somewhat irregular but still easy, which winds beneath the pine trees, offering picturesque panoramic views of the gulf, leading directly to Punta Chiappa, the unique rock formation that extends over the sea.
A boardwalk parallel to the cliff, with several small restaurants, connects "Punta" with the small cove of Porto Pidocchio, ending at Mulino del Moro.
From here, you can return to San Rocco with a ramp of about 1000 steps, which joins the outbound trail in the locality of San Nicolò.
For those less "athletic," an alternative to the return to Camogli on foot is the boat, which will take you back to the small harbor in just under 20 minutes.
Unlock, view and download the gpx track by becoming a Supporter.
Data sheet
Time

Up to 1h

Length Km

2 - 4

Difficulty

Low
You might also be interested in