Bogliasco - Santa Croce - Pieve Ligure - Sori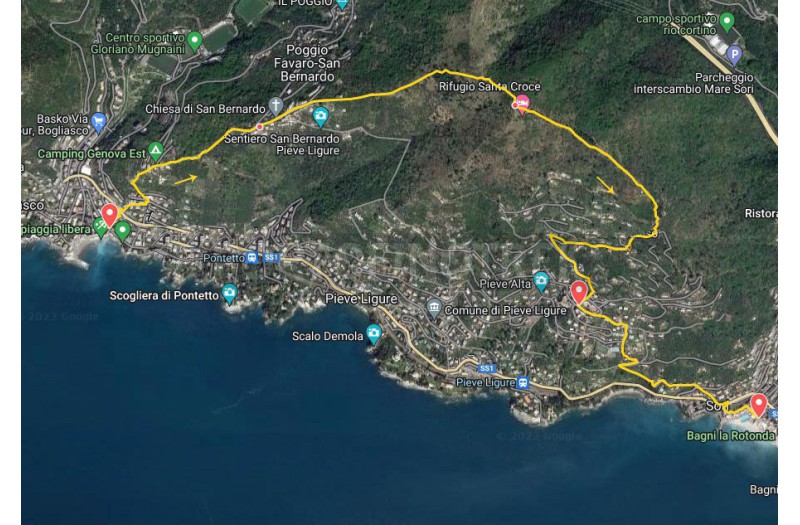 Difficulty
Low
Duration
2h 00'
Length km.
5,100
Footpath signs
+
1m - 505m | 493m | 504m
Starting point
This itinerary connects Bogliasco to Sori passing through Santa Croce and Pieve Ligure alta.
The starting point is in the center of Bogliasco, near the municipal swimming pool (there is some parking space for cars and motorcycles). From here, turn left onto Via Mazzini and continue until you reach Via Favaro, which is immediately on the left after the railway bridge.
Following the F.I.E. trail marker

, climb up a staircase that borders some gardens and leads to an overpass allowing you to cross Via Aurelia. Then, take another staircase that merges onto the road for a short stretch before ascending steeply. After passing a campsite nestled in the woods, you will reach the San Bernardo hamlet, approximately one kilometer away.
Continue uphill along the paved road, passing next to the church of S. Bernardo. After less than 300 meters, take a footpath.
The ascent continues, sometimes quite steep, until you reach a semicircular wall called Rotonda Martin. Leave it on the left and continue uphill to reach Monte Santa Croce (518 meters above sea level) and its white church.
In the surrounding grassy area, some tables and benches have been placed, perfect for a lunch break or simply to admire the stunning view over the entire Gulf of Paradiso. On the clearest days, the view stretches all the way to the Corsica island and the small islands of the Tuscan archipelago.
After catching your breath and enjoying the panorama, begin the descent on the opposite side of the arrival, behind the church and near the small refuge.
Follow the trail marker

and descend on the Sentiero dei Misteri (Path of Mysteries), a religious-themed route characterized by votive shrines depicting the 5 sorrowful mysteries of Christ's Passion.
After just over 800 meters, you will reach Costa. Turn right towards Pieve alta, crossing cultivated terraces and olive groves. After a short staircase, you will arrive at Chiappe, directly on Via Chiappe, which you follow until you intersect with Via Massone. Descend to the left to reach the staircase leading directly in front of the church of San Michele Arcangelo in Pieve Ligure alta.
With the church on your right, follow the road under the cemetery for about a hundred meters, then turn onto Via Chiossa and, after a few meters, descend the staircase on the right.
Proceed always following the trail marker

and you can't go wrong. You will arrive on Via San Gaetano descending it, crossing Via Solimano first and then reaching Via Aurelia.
At the traffic light, cross and turn right for a few meters to enter Via Sant'Erasmo, characterized by typical colorful Ligurian houses, one of which belonged to Pablo Picasso's grandfather.
After a few meters, you will arrive on the promenade in Sori where this itinerary ends.
The path tracked on Google Maps
Unlock, view and download the gpx track by becoming a Supporter.
Data sheet
Time

From 1h to 2h

Length Km

4 - 6

Difficulty

Low