Ruta - Portofino vetta - Semaforo vecchio - Pietre Strette - Ruta
 
Difficulty
Low
Time
2h 40'
Lenght Km
6,300
Segnavia
+ +
279m - 603m | 522m | 330m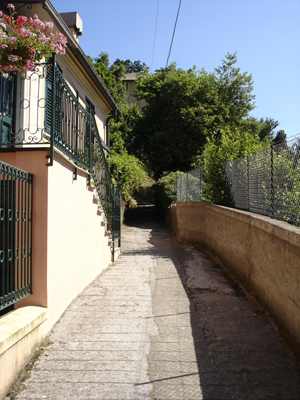 This route begins in Ruta di Camogli via Gaixella, the path that you find at the San Michele Arcangelo church (can be reached by the staircase next to the gallery); it is a shaded trail that climbs through the houses through a series of steps and then continue with the cobblestones.
Tralasciate tutte le deviazioni che incontrate lungo la strada (a destra, in alcuni punti, ci si può immettere nella strada carrozzabile; a sinistra una strada senza sbocco che conduce a una propietà privata) per proseguire sempre diritti.
After about 20 minutes, along the back the Hotel Portofino Kulm you reach Portofino Vetta (location you can reach by car).
Go past the barrier that prevents the passage to motor vehicles (and bicycles at certain times of the year) and go straight for about 200 meters until you reach Gaixella, stopping point also equipped with drinking water tap.
Past the benches, and the turnoff to San Rocco di Camogli, abandoned the main path to turn right and follow the signs to Semaforo Vecchio.
The route, which takes about 35 minutes to the summit consists of a climb through a forest characterized by protruding boulders of conglomerate. Semaforo Vecchio, recently renovated and used as a hideaway nestled on a beautiful meadow surrounded by large trees that provide a little shelter in the sunny summer days.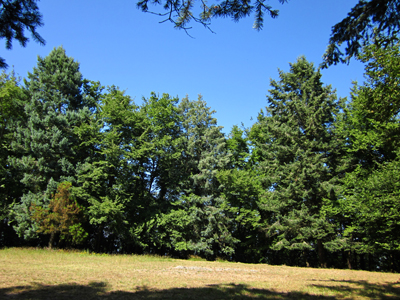 After a break to enjoy the peace and quiet around you, resume the path with the path to the left of the shelter, which falls in the woods.
At the junction go left (on the right you get to the Sella Porcile locality and Semaforo Nuovo) following the directions for Pietre Strette. This stretch of the route is very beautiful because it develops almost entirely in a forest of chestnut trees and secular pines. In Piano Lungo place the trail joins the alternative path (and shorter) that descends from Semaforo Vecchio, and together, in about 15 minutes, will lead to Pietre Strette, where you find benches, tables and drinking water.

Here turn left and go straight ahead to find themselves again in a short Gaixella and from there, retracing the path of going in Ruta di Camogli.
Become a supporter to view the GPS track
Data sheet
Time

From 2h to 3h
Support us
Thanks to your contribution we could keep the site up to date and providing an ever better service.
By becoming a SILVER supporter you will have the following privileges:
Browse the site without ads banner
Have priority in communicating with our staff
By choosing to become a GOLD Supporter you can also:
View and download the tracks of each route
Have access to the map of all the paths traced by Portofinotrek
Click here and become a supporter right now!