Ruta - San Rocco di Camogli - Portofino vetta - Ruta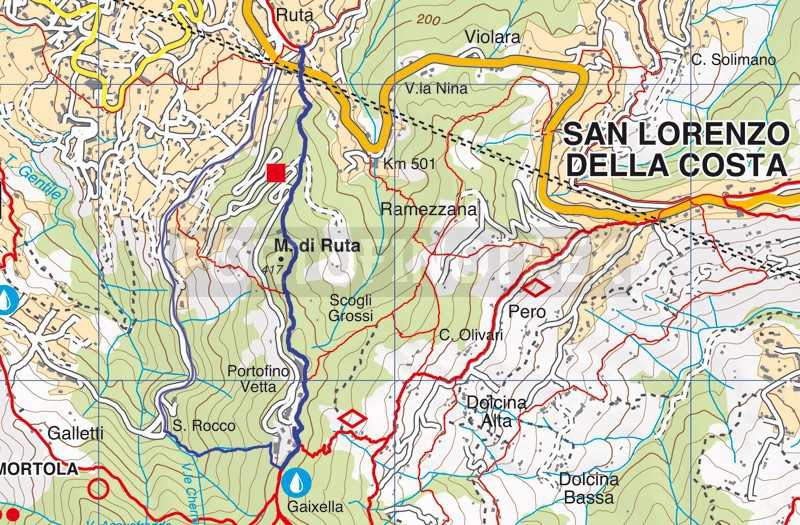 Difficulty
Low
Duration
1h
Length km
3,700
Footpath signs
+
223m - 424m | 256m | 232m
Starting point
To experience the trail of Valle dell'Acqua Fredda, we took a short loop hike. However, upon reaching Portofino Vetta (Summit), it's possible to continue on other trails that allow for longer hikes.
The starting point of this short route is Via Molfino, the drivable road that connects Ruta di Camogli to San Rocco di Camogli. Traverse this beautiful flat road immersed in greenery, offering splendid panoramic views of Camogli, until you reach the car parking area.
Here, leave the asphalted road to follow, to the left, the trail marker

that ascends to Portofino Vetta. It's a well-maintained albeit less frequented trail that climbs along the Valle dell'Acqua Fredda and soon transforms into a steep concrete staircase. Following the regular steps, shaded by dense vegetation, you find yourselves below the antenna of Monte di Portofino.
Continue to reach the main trail that connects Portofino Vetta to Portofino Mare (Sea). On the right, after a few meters, you'll find a tap for drinking water.
Now turn left, passing under the antenna and subsequently, in front of the entrance to the Park, you arrive behind a beautiful historic building, the former Hotel Kulm. From here, the descent into the forest begins, ending amidst the residences of Via Gaixella, in Ruta. Always to the left, you encounter the staircase that ends at Aurelia Road.
There's an alternative, less direct and strenuous route to ascend to Portofino Vetta from Ruta. It's called "Via Monti", a trail encountered after about 300 meters from Ruta towards San Rocco di Camogli. The trail emerges near the small chapel close to the parking area of Portofino Vetta.
Click here for the GPS path on Google Maps
Unlock, view and download the gpx track by becoming a Supporter.
Data sheet
Time

Up to 1h

Length Km

2 - 4

Difficulty

Low
You might also be interested in