Trail ring Portofino Vetta - Semaforo nuovo - San Rocco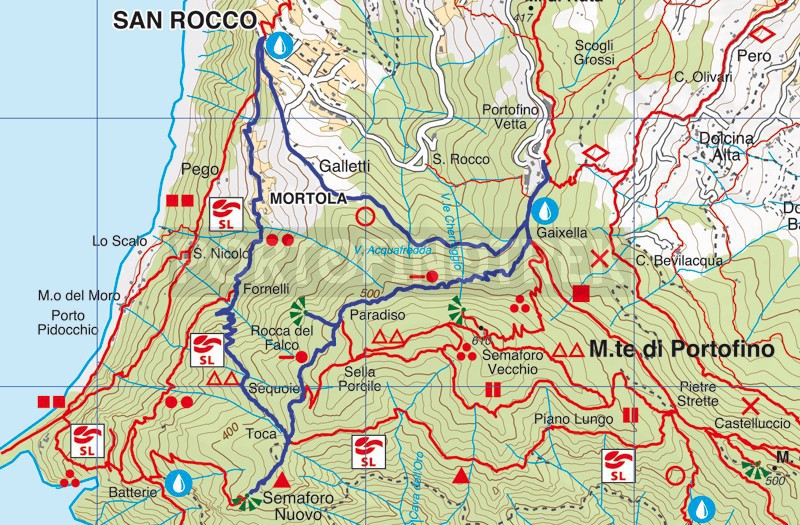  
Difficulty
Medium
Duration
2h 20'
Length km.
6,300
Footpath signs
+ + +
197m - 526m | 606m | 633m
Starting point
Portofino Vetta can only be reached by private vehicles or by feet from Ruta; the parking (free) is located 200 meters before the Hotel.
There are two accesses to the paths, one in front of the parking lot and another at the end of the carriage road.
Once you enter the park, continue on the main road towards Pietre Strette up to Gaixella (412mt. above sea level). Here there is a drinking water faucet.
After few meters from Gaixella you have to take the path on the right (the uphill one leads to Semaforo Vecchio) which alternates shaded sections with some panoramic views; shortly after the road begins to climb up to Paradiso (435mt. s.l.m.)
After passing a small refuge immediately above the road, the signs indicate, on the right, a viewpoint that can be reached in a few minutes; it is the Rocca del Falco place, a natural terrace overlooking Camogli, and the whole Golfo Paradiso.
Back on the main path after 10 minutes you will reach Toca (453 meters above sea level), a small crossroads equipped with benches and tables.
Following the path marked by a red triangle

, in 5 minutes you will reach the large square on which it stands Semaforo Nuovo.
From this location not only you can enjoy a wide view that ranges from Capo Mele to Tino Island , but you can also observe the different types of vegetation of the Park and a variety of birds. The place is worth a stop to admire the landscape and enjoy the tranquility.
Once back on the road, you have return to Toca but here, instead walking on the same path of the outward journey, take the path on the left which begins to descend among some hazelnut trees. Although the route develops almost entirely in the middle of shady valleys, it has some more open sections with beautiful views of Punta Chiappa and Camogli.
Once in Fornelli (238mt. s.l.m.) the path crosses the way "Batterie - San Rocco"; here proceed to the right, the path advances between plots of land which, as you get closer to the inhabited areas, they appear more and more cared for.
After crossing the hamlets of La Mortola and Il Poggio, you will arrive at the churchyard of the Church of San Rocco di Camogli (210mt. slm) .
The hamlet offers a small but valid choice of shops, bars and restaurants for a lunch break.
To go up to Portofino Vetta, the path starts just behind the church and immediately crosses the houses of Galletti ; after a stretch in the open, the path enters the wood with an easy path (after the rains this stretch could be muddy and a little slippery).
After about 35 minutes, the path reaches Gaixella, from where, with the same route as the outward journey, you will arrive at Portofino Vetta .
Unlock, view and download the trail track by purchasing a map.
Data sheet
Time

From 2h to 3h

Length Km

6 - 8

Difficulty

Medium