Nozarego - Cappelletta della Gave - Olmi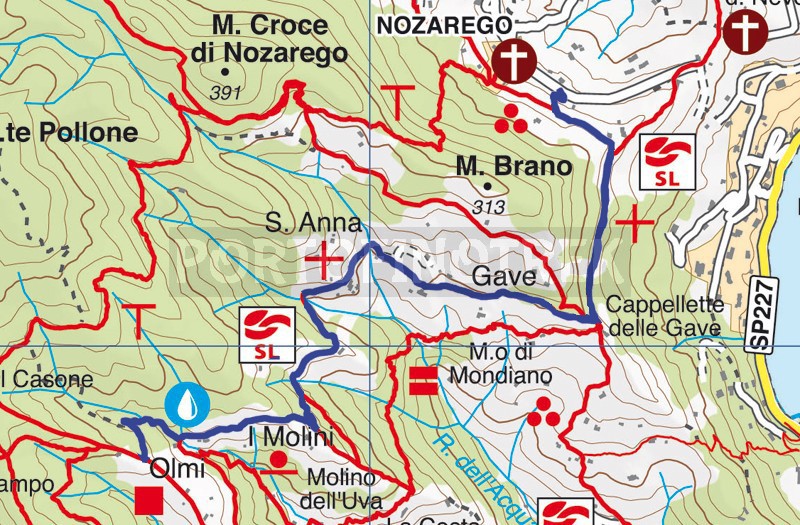  
Difficulty
Low
Duration
40'
Length Km
2,570
Footpath signs
144m - 262m | 230m | 126m
Starting point
This path, in addition to being a pleasant walk suitable for anyone, offers numerous possibilities to continue towards other locations on the Monte di Portofino by undertaking even more challenging itineraries.
Once in Nozarego , by car (the parking lots are along the road), by bus, or walking from Santa Margherita Ligure, you have to take the climb near the parish church, near the bus stop . The path initially surrounded by shrubs then continues in the middle of the cultivated land and passes next to some villas surrounded by beautiful gardens with sea view to join with another path coming from Nozarego.
A flatter and more panoramic stretch follows, from which you can observe a panoramic view of Punta Pedale, the Abbey of Cervara and the entire Gulf, which reaches Gave where there is a small chapel . At this crossroads (on the left you go down to Paraggi, on the right a path in the woods arrives in Crocetta), near the church, there is a drinking water tap.
Keeping the cobbled path that climbs up in the shade, you then cross cultivated fields, rural houses and a tiny chapel (from which you can enjoy a beautiful view) to the place called Mulini . Here we meet a rest area equipped with tables, benches and drinking water and the restaurant Mulino del Gassetta ; here you will also see the detour to Crocetta (location on the Portofino summit-Portofino mare trajectory).
After passing the beautiful renovated mill, a very short and steep descent leads to the road, which has now become suitable for vehicles (the path to the Valle dei Mulini begins on the left), which joins the path coming from Portofino summit in a flat way shaded by chestnut trees and direct to Portofino sea; this meeting point is called locality Olmi .
Unlock, view and download the trail track by purchasing a map.
Data sheet
Time

Up to 1h

Length Km

2 - 4

Difficulty

Low
100% secure payments
You might also be interested in