Loop trail Teriasca - Levà - Case Becco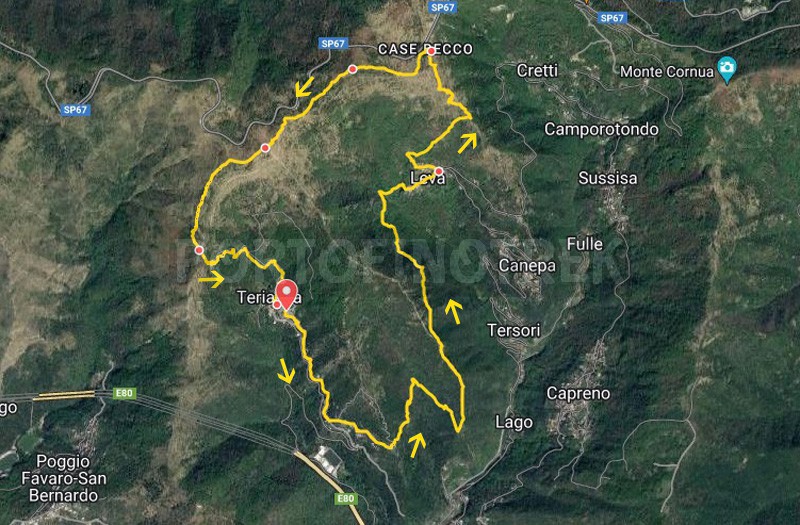  
Difficulty
Low
Duration
4h 00'
Length km.
10,000
Footpath signs
+  +  + 
197m - 814m | 751m | 765m
Starting point
Itinerary starting from Teriasca, a hilly hamlet of Sori located less than 5 kilometers away.
The departure is from the church square. Take a left and continue along the walkway that goes over the road until you reach the charming Chapel of Our Lady of the Guard of Cortino. Here, in addition to finding a water tap, you ascend to the left on Via Cortino, towards Levà.
Continue for about 500 meters, passing in front of some private houses, until you reach the starting point of the trail, which enters the forest after a few meters.
Continue towards Levà, and after a short distance at the unmarked fork in the road, proceed downhill..
After about 1 kilometer from the beginning of the trail, you will reach the ridge on the "Metanodotto Trail". There is a sign indicating "Tersori," but the itinerary requires you to turn left and begin a rather steep ascent. Please note that the climb is quite exposed to the sun and may be best avoided during the hottest summer days.
After approximately 600 meters, you will leave this section of the trail and turn right. Following a pleasant, occasionally narrow path, you will arrive at Levà, in front of its church.
Just to the left of the church, the signs indicate the direction towards Case Becco. Continue ascending until you reach a junction. Proceed towards Croce, which can be reached in approximately 20 minutes.
You will be greeted by a beautiful area with meadows and a stunning panoramic view of the valley below and the Golfo Paradiso.
Continue towards Case Becco, which can be reached in a little less than 700 meters of uphill climb, following the trail markers.

e 

.
Upon reaching Case Becco, turn left and continue following the trail markers

along the ridge towards Monte Uccellato first, and then Monte Possuolo (or Pozzuolo).
Continue a little further, and when you reach the vicinity of the antennas, take the path that descends just behind them. This section is initially a bit steep and can be slippery, especially when wet. Soon, you will join the trail that comes from Bocchin di Pozzuolo and continues to Cian di Cola.
You are now at a crossroads of trails. To complete this loop, descend southward on the most direct path that leads to Teriasca, which is just over 800 meters away.
You will arrive in front of the parish church, where this itinerary concludes.
Unlock view and download the trail track by purchasing a map.
Data sheet
Time

From 4h to 5h

Length Km

10 - 15

Difficulty

Low
100% secure payments