Trail from Sori to Recco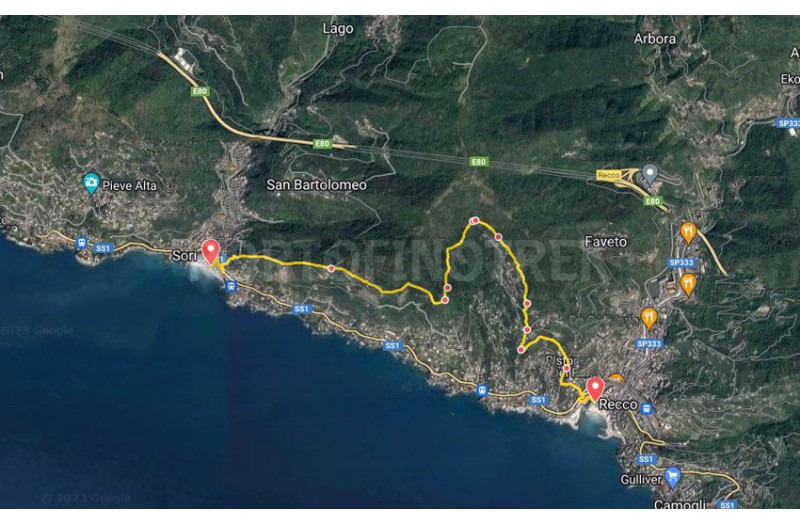 Difficulty
Low
Duration
2h 00'
Length Km
5,500
Footpath signs
+ +
1m - 308m | 413m | 413m
Starting point
An itinerary that starts from the seaside village of Sori to climb towards the hill and, by walking along scenic trails, descend into the town of Recco.
The route begins in Piazza della Chiesa, to the right of the parish of Santa Margherita. A climb leads to the Via Aurelia, emerging near the traffic light.
You cross the road and pass in front of the beautiful church of San Rocco, taking the stone staircase which immediately reveals itself as steep and challenging, and following the trail sign

. After about 300 meters, the staircase ends and becomes a steep road until reaching the charming Church of S. Apollinare, from where you can admire a beautiful panorama.
You continue to the right on Via Belvedere to reach the locality of Traliccio

and subsequently, Pineta Polanesi, walking along a very suggestive stretch, before entering the woods and arriving near two tanks, probably used in the past for collecting rainwater, in the locality of Vasche di Ageno, and shortly after in the locality of Ageno nord.
The path now continues pleasantly on a flat section, alongside some beautiful houses, until "Pin du cè tu", where the descent begins towards Ageno Piazzetta, a drivable road where the bus stop is located.
After crossing the road, take Salita della Giudea, which is followed for just over 150 meters. At the signpost, turn left to arrive shortly after at Megli, the hamlet of Recco well-known for the "focaccette festival", right in front of the churchyard.
You follow the trail downhill following the trail marker

. You cross the road, pass by the cemetery and reach a small chapel where you turn left. After walking for about 300 meters, you arrive at Via Aurelia near a traffic light. After crossing the road, you walk downhill towards the seaside promenade which you reach after a few meters, where this itinerary ends.
The trail retraces some sections of the Sentiero Liguria, marked by the trail sign

o

The path tracked tracciato by GPS
Unlock, view and download the gpx track by becoming a Supporter.
Data sheet
Time

From 1h to 2h

Length Km

4 - 6

Difficulty

Low
You might also be interested in