Trail ring Santa Margherita Ligure - Nozarego - Bocche - Busseo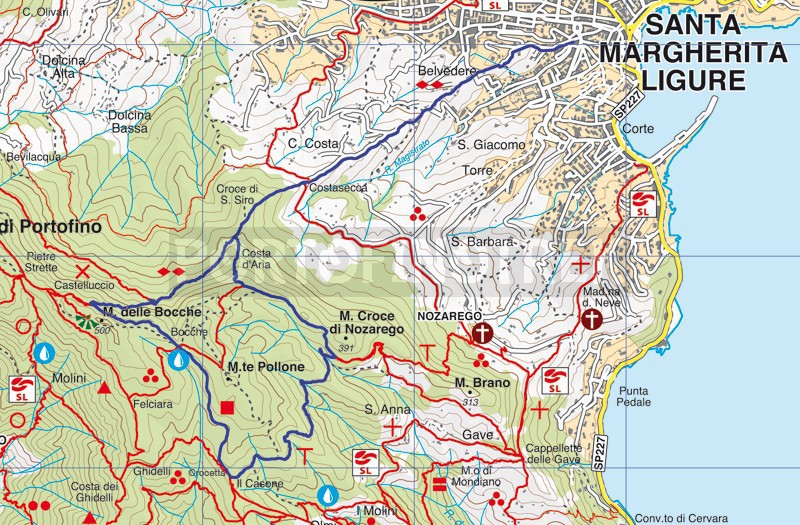  
Difficulty
Medium - High
Duration
3h 00'
Length km.
9,370
Footpath signs
+ +
3m - 478m | 758m | 758m
Starting point
The beginning of this itinerary is in Santa Margherita Ligure in via Costasecca, the street near the Town Hall square that rises behind the church.
Here follow the driveway for a few meters continuing immediately afterwards to the right, on the mule track that runs along bands and private properties and is marked by two rhombuses (

).
The mule track is all uphill and it alternates steps with short stretches of carriage road and stretches of gravel. Along the way there are several detours, but you must always continue straight.
After having passed the last houses, the climb, which develops in the shade of holm oaks, chestnuts and oaks, becomes particularly steep and at times a bit irregular.
After about an hour's walk from the start you will find the wide Portofino Vetta - Portofino Mare path. Here you have to turn left and continue along the main path passing locality Bocche and after about 15 minutes you will reach Crocetta.
Just behind the bench on the left begins the path which goes towards Nozarego. It is a path in the woods that does not present particular difficulties and is pleasant to walk. As you descend you begin to see some glimpses of the sea that culminate with a postcard landscape that opens up from Nozarego on Santa Margherita.
The path arrives just behind the Nozarego cemetery, here you have to continue to the left towards Busseto. After 10 minutes the road becomes open to vehicles and passes next to a restaurant and then descends to a crossroads. Here take the steep climb on the left which reaches a small group of houses, called Busseto (or Busseo).
Just where the carriage road ends, near the last house, there is a narrow path that in a further 10 minutes, passing through some cultivated strips, it connects to via Costasecca, near a beautiful stone house. From here, along the same itinerary as the outward journey, get off and you will find yourself at the starting point.
Unlock, view and download the trail track by purchasing a map.
Data sheet
Time

From 2h to 3h

Length Km

8 - 10

Difficulty

Medium - High
100% secure payments