Santa Margherita Ligure - Camogli
 
Difficulty
Medium - Low
Time
3h 20'
Length km.
7,000
Signs
+ +
3m - 472m | 562m | 554m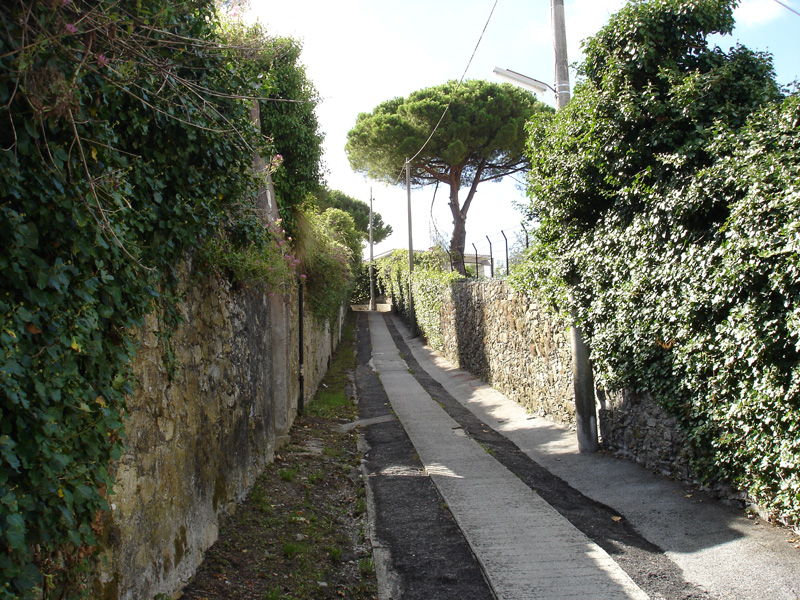 For this tour, which includes the departure in Santa Margherita Ligure and arrival in Camogli, we recommend using the train. Once in Santa Margherita Ligure takes Via Costasecca, the street near the Town Hall Square that goes next to the Hospital.
Follow the driveway for a few meters to go, right on the trail that runs alongside bands and private property and is marked by two rhombuses (

). 
The mule track, all uphill, alternating steps, short stretches of road stretches on gravel roads end. Along the way you will find several detours, but you keep going straight.
So enter the home the last climb, which grows in the shade of holm oaks, chestnuts and oaks being particularly steep and at times irregular.
 After about an hour's walk from the wide path encountered starting the summit Portofino - Portofino sea from here, turning right, 5 minutes from Pietre Strette, picnic area with benches, wooden tables and tap water.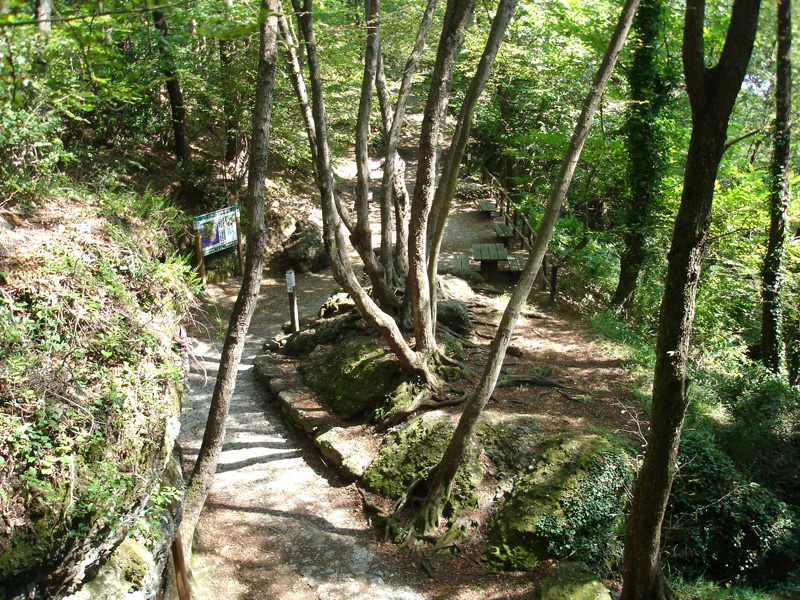 Pass through the rocks that characterize this part of the park takes to travel only a few feet down the trail to San Fruttuoso and leave him to follow, right, signs for Toca.
After a first shaded section, the trail leaves the woods and advances in coast overlooking the sea for almost the entire route, offering many panoramic views of San Fruttuoso and Cala dell'oro in a blend of shades of green and blue really spectacular.
In 45 minutes you will reach Toca, a very quiet corner, and the crossroads of other paths, equipped with two benches and a wooden table.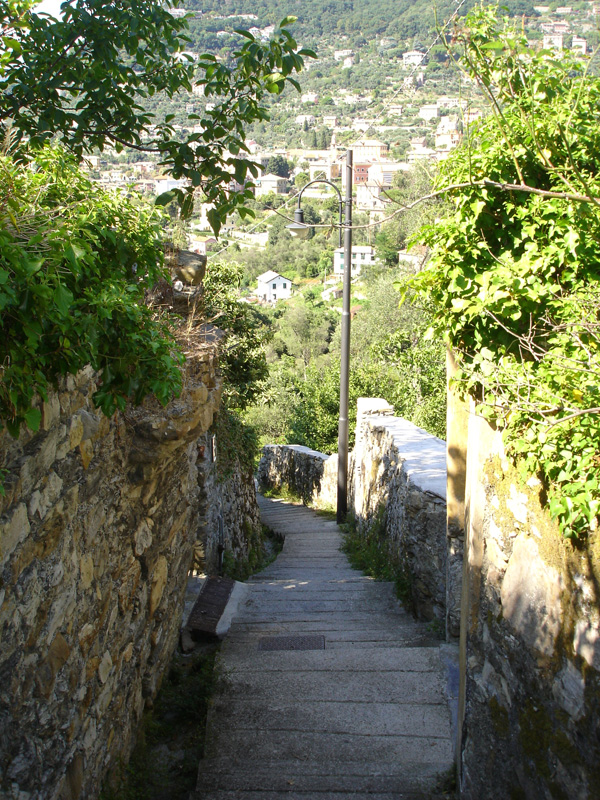 If you want to make a little detour, continuing to the left in 5 minutes you can access the Semaforo Nuovo, a highly scenic location from which it embraces the Gulfs Tigullio and Paradise. Otherwise, take the path that starts off between hazelnut trees. Although the path is developed almost entirely in the midst of shady valleys, some parts are more open with beautiful views of Punta Chiappa and Camogli.
In places the descent Fornelli meets the road for San Rocco - Batterie - San Fruttuoso, keep right, walking between plots of land that gradually we approached the first houses, are increasingly well-groomed.
Crossed the nuclei of houses of La Mortola and the Poggio, with a stretch of road that runs parallel to the sea, we arrive at the forecourt of the Church of San Rocco di Camogli.
Here you will find bars, grocery stores (an opportunity to taste the famous "galletta" of San Rocco) and some restaurants.
In front of the church square you can see the stairs going into the middle of a picturesque group of houses down to colorful Camogli. This is a staircase of 900 steps that develops between olive trees, houses, high walls and a few glimpses of Ruta di Camogli, in about 20 minutes, ending in Camogli at Torrente Gentile. Crossing the large parking lot, add the promenade of the beautiful Ligurian village.
Unlock, view and download the trail track by purchasing a map.
Data sheet
Time

From 3h to 4h