Trail from Recco to Sori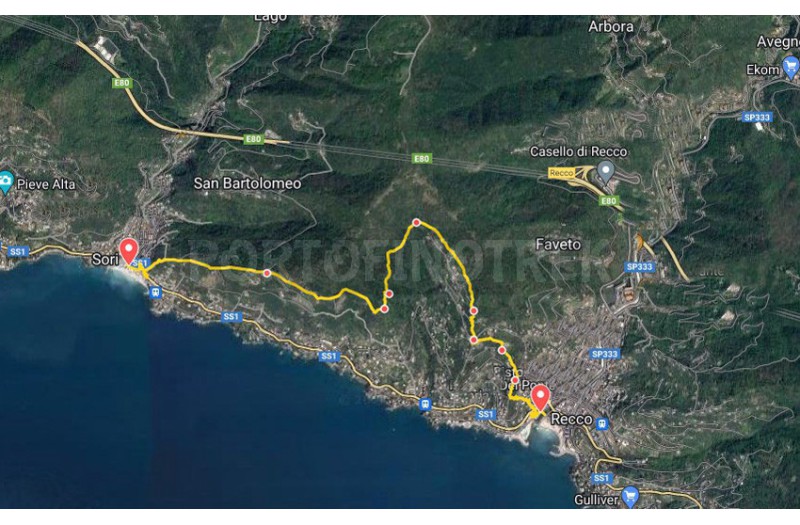 Difficulty
Low
Duration
2h 00'
Length Km
5,500
Footpath signs
+  + 
1m - 308m | 352m | 350m
Starting point
The departure is in Recco, from the pedestrian bridge towards the swimming pool on Passeggiata Punta Sant'Anna. Then take the left for a few meters to take a staircase between the buildings (it may be a little hidden) that goes up to Via Romana and then to Aurelia.
Crossing the street close to the traffic light, take Salita Megli with the FIE signpost 

, a mule track goes up, initially among the houses, and in about 20 minutes ends below the church of Nostra Signora delle Grazie, in the delightful hamlet of Megli.
Here there is a tap of drinking water.
Continue by going up slightly and then proceeding on a flat path to the left. After a little less than 300 meters, take "Salita Aigo" which quickly leads to Salita Giudea. Turning right immediately leads to the location of Ageno Piazzetta.
Now the trail penetrates into the woods to climb up to reach the location "Pin du Cè tu" and then continues on a more level path with some ups and downs, without encountering any difficulties, until reaching Ageno first and then Vasche di Ageno, the latter recognizable by the presence of a couple of basins.
The trail becomes particularly scenic, offering incredible views of the Mount of Portofino. Advancing on a level path, it arrives, after about 600 meters, at the location of Pineta Polanesi, marked by the trail sign.

.
Here, you climb to the right, arriving shortly after at Traliccio and then descend onto Via Belvedere, always accompanied by breathtaking views, which leads directly to the Church of Sant'Apollinare.
Just in front of the church, you take the steep cement road which, after passing some houses, gives way to a stone staircase that continues to descend, ending at the Church of San Rocco, above Via Aurelia.
Crossing the road, you turn right for a few meters before turning left and passing under the road bridge, continuing along Via Genova to reach the center of Sori in front of the Church of Santa Margherita and then onto the seaside promenade, where this itinerary concludes.
The trail retraces some sections of the Sentiero Liguria, marked by the trail sign

o

The path tracked tracciato by GPS
Unlock, view and download the gpx track by becoming a Supporter.
Data sheet
Time

From 1h to 2h

Length Km

4 - 6

Difficulty

Low