S. Agostino - Gravero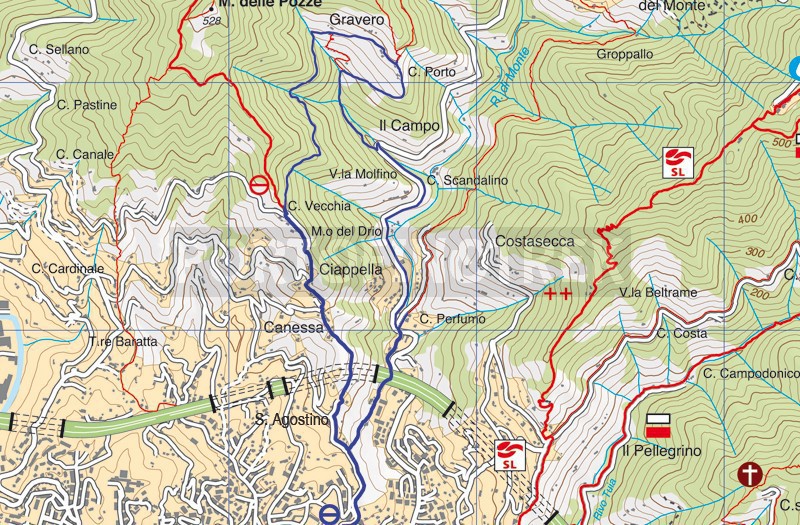  
Difficulties
Low
Duration
2h 20'
Length Km
5,300
Footpath signs
25m - 298m | 533m | 533m
Starting point
This itinerary starts from the church of Sant Agostino which can be reached on foot from the via dal mome "Salita Sant'Agostino" (just behind the railway on Via Bolzano) or by scooter from Via Cerisola (is better to reach the place by feet because could be a problem finding park for the car).
Take the path to the right of the chapel (trail sign: red crossed circle) that goes up between small villas and cultivated strips and stay on it even when you cross a small asphalted road.
Once past Madonna Nera, recognizable by a small white chapel in a private area on the right but hidden among the vegetation, the path changes with a series of concrete steps and, subsequently, to an asphalted road which is abandoned after a few meters to follow in path in the woods on the right.
At the crossroads, which you meet immediately, keep to the right (continuing straight up to Monte Pegge and subsequently Montallegro) and continue on the path, not signposted, which alternates flat stretches with short descents until you cross the small semi-abandoned village of Gravero , from which you can enjoy a beautiful view of Rapallo.
Here the path begins to descend a little rough due to the passage of wild boars, passing next to other ruins and a small stream to get to a dog cemetery and from here to the driveway that leads to San Maurizio dei Monti. Keep on the right on the provincial road for about 1.2km up to the point where on the left you can see "Strada antica dei monti": ATTENTION in front, therefore on your right, there' s a small concrete path that climbs with a view of some apartment buildings on one side and fields on the right, and, shortly, it connects to Via Sant 'Agostino, from where, on the right, you get to the starting point, to the S. Agostino's church.
Unlock, view and download the trail track by purchasing a map.
Data sheet
Time

From 2h to 3h

Length Km

4 - 6

Difficulty

Low
You might also be interested in