Rapallo - Montallegro via Tuja and passing through Pianalunga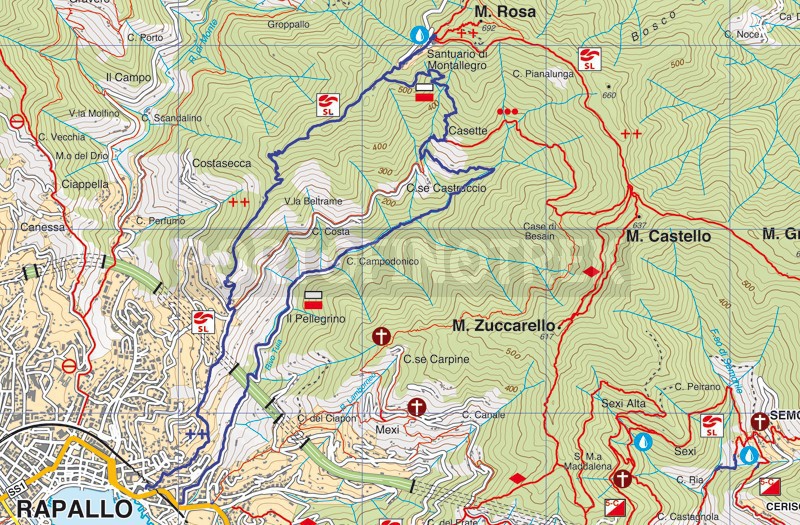 Difficulty
Medium
Duration
2h 45' / 4h 00'
Length km.
8,00 / 12,00
Footpath signs
 / 
3m - 593m | 734m | 687m
Via Pianalunga and Besain
3m - 633m | 877m | 863m
Starting point
Today we are presenting the ancient itinerary that leads to the Sanctuary of Montallegro , following the Rio Tuja, which for years remained impracticable.
Due to some passages inside the stream, it is good to pay close attention when the presence of water is greater and we recommend wearing trekking shoes and maybe even trekking poles to help you.

The starting point is in Rapallo in Via Tuja, a small road that you meet, on the left, on Via Aurelia towards Chiavari, before arriving at the small church of San Rocco, where C.A.I Rapallo placed an illustrative panel.
Once here, keep the asphalted road that passes between the houses, where after a few meters you will see the first trail sign

.
After passing the houses, a pleasant flat path begins that runs along the river, where you can see an ancient mill in excellent condition, called the Mill of the Witches , and some scattered houses with cultivated gardens.
Passing under the highway bridge the road begins to rise slightly and offers some more shaded passages. Arrived in front of a large gray peasant house, the path continues to the left directly into the stream that you must cross to find the path again that climbs up and leads into a wood.
From here you will continue uphill, following the two trail markers crossing the stream a couple of times again;
in two points, where the path is particularly narrow and a little steep, chains have been installed to make the passage safer.

Leaving the wood, you will come to a small open space that offers a beautiful view of Rapallo, here the path connects to the one that comes from Il Pellegrino (1.5 km of paved road) passing through Castrusso, tiny group of houses including an ancient oil mill, now used as a B&B.

Continuing, you will arrive at the ruins of an ancient small village named "Casette" where you find a fork: on the left, crossing mainly the woods, after about 30 minutes you'll arrive just below the cable car station; turning instead on the right, a path brings you to Pianalunga

(about 50 minutes), here you'll join the path Montallegro - Chiavari. Continuing ahead towards Montallegro, you will arrive at the "Il Pellegrino" restaurant and Bar and then to the Sanctuary of Montallegro.
Here you will also find a tap with drinking water.
After a well-deserved break to enjoy the scenery or even just to stop at the bars in the hill hamlet, we descend towards Rapallo following the old mule track that begins with the steps next to the cable car.
The paved path descends, alternating between shady passages and more open and scenic spots, and after about 30 minutes, it joins a driveway that you follow for a few metres to the left until it rejoins the mule track..
After passing the San Bartolomeo church, the path becomes narrower and gradually approaches the houses until you reach Via Don Minzoni, the driveway which, passing behind the Teatro delle Clarisse, arrives in front of the Medieval Castle.
Click to see path traced by GPS
Click to see path traced by GPS via Pianalunga

Unlock, view and download the gpx track by becoming a Supporter.
Data sheet
Time

From 2h to 3h
From 3h to 4h

Length Km

8 - 10
10 - 15

Difficulty

Medium - High
You might also be interested in