Rapallo - Sant'Ambrogio - Montallegro - Rapallo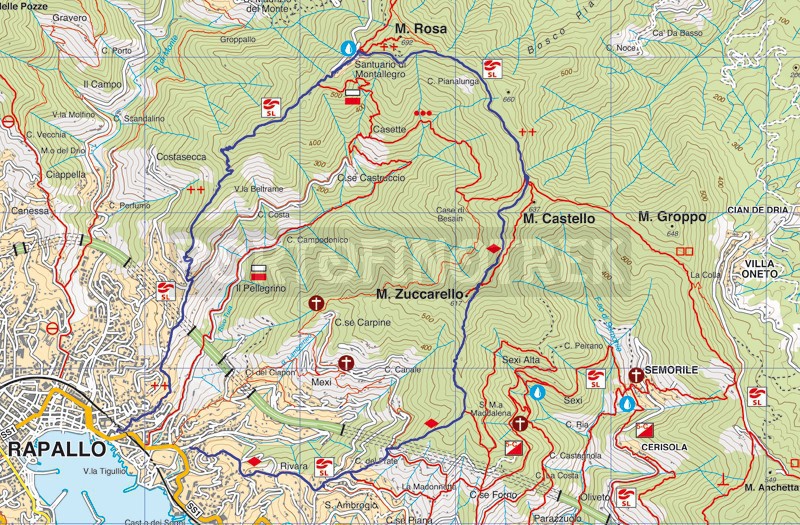  
Difficulty
Medium
Duration
3h 50'
Length Km
9,900
Footpath signs
+
7m - 632m | 872m | 877m
Starting point
A beautiful itinerary that winds its way through the hills of Rapallo through scenic areas and dense woods.
Our journey begins in Via Pietrafraccia , a side street of the Via Aurelia di Levante, opposite the entrance to the Casale Park.
We take Via Sant'Ambrogio , a mule track that you meet immediately on your right. The path consists of a steep concrete staircase that climbs between high walls, interrupted by some flatter sections from which you can admire beautiful views of Rapallo.
Upon reaching the intersection with Via Linare, continue left along the narrow street that climbs between strips and villas and reaches a small clearing where you will find the staircase leading to the church of Sant'Ambrogio . Here a wide panoramic view of Rapallo awaits you and extends as far as Portofino. On the square you will also find a drinking water facet (there are no others up to Montallegro).
After passing the church, continue on Via San Bernardo , the paved road in front of you, to leave it after 50 meters and continue on the path to the right of the white chapel. You will immediately find yourself at a crossroads, continue left along Salita Boitano , wide stone steps that rise between strips and cottages and lead you to a driveway.
Cross it to continue the narrow path ahead, steep and covered with leaves that climbs through the bush. A pleasant flat stretch, which develops in a beautiful oak and chestnut wood, will allow you to catch your breath before resuming the climb.
The path is now very narrow, so much so that a protective railing has been placed at the point, today a little worn, but in addition to being surrounded by peace and silence you can enjoy a spectacular scenery on the surrounding valleys that ranges up to Sestri Levante.
Once you reach a small votive shrine, continue left along the path that descends and then go up and then continue on a fairly level basis. Pay attention because in some places it is particularly tight and shows some signs of failure.
When you find yourself at a crossroads where

the symbol

continue on the left (a right you go towards Chiavari). You thus arrive at the restaurant in Montallegro and then at the Sanctuary of Nostra Signora di Montallegro
From here, go down the imposing staircase and head to the cable car station (convenient alternative to reach Rapallo in 8 minutes) to take the path that descends with a concrete staircase and continues with a slightly flatter section overlooking San Maurizio dei Monti.
The path is all downhill quite steep and develops on the cobblestones alternating shaded sections with chestnut trees and more open and sunny sections, especially when you pass a lookout, where you can stop on a beautiful stone bench. From here, a series of hairpin bends leads you to a driveway, in the locality of " Il Pellegrino ".
Cross it to resume the path that goes down among beautiful villas and passing behind the Chapel of San Bartolomeo approaches the center of Rapallo meeting the first buildings.
Walking up a concrete staircase you find yourself in Via Don Minzoni , behind the Teatro delle Clarisse, very close to the city center.
Unlock, view and download the trail track by purchasing a map.
Data sheet
Time

From 3h to 4h

Length Km

8 - 10

Difficulty

Medium