Trail ring Lavagna - San Salvatore - Monte San Giacomo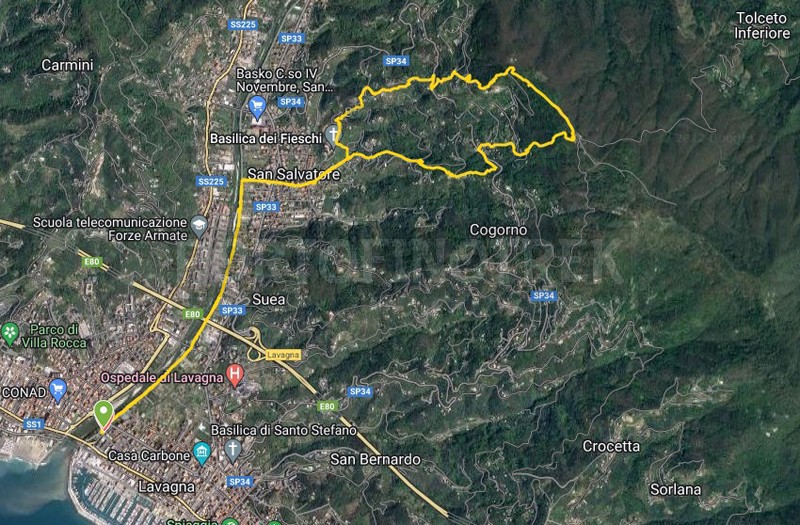  
Difficulty
Medium
Duration
3h 30'
Length Km
11,800
Footpath signs
10a + 10b
1m - 549m | 549m | 549m
Starting point
This itinerary starts in Lavagna, at the beginning of the promenade along the 'Entella' river (also easily accessible from Chiavari).
Walk along the pleasant and quiet riverside for just over 2km to turn right along a passage paved with slates and which runs along a small tributary stream.
Continue straight on crossing the provincial road, immediately following the signs for "Basilica dei Fieschi".
After about 3 kilometers from the start you will arrive at the parking lot near the Basilica dei Fieschi where you will find the signs with directions to Monte San Giacomo (path 10a).
The route is well signposted and, as can be understood from the signs placed along the entire path, you are now on the " Vie dell'Ardesia "; the climb begins immediately and it can be tiring for less trained walkers.
Sometimes you cross paved roads, Via Maggiolo and then Via degli Ulivi but the connections are evident as they are well marked.
After 2,350 km completely uphill and a difference in altitude of 500 meters you will arrive at the church of Monte San Giacomo .
The way back begins by going down to the left along the short connection in the woods which immediately leads to the driveway to follow until you reach the first bend where, immediately after, on the right, there is the indication of the path 10b.
Pay attention because even if the route is quite intuitive some sections could be problematic due to lack of maintenance*, and the indicative panels are not always in good condition.

You initially descend through chestnut woods which then give way to olive groves and beautiful owned houses.
Even during the descent you cross (and for a few short stretches) a couple of asphalted roads and after just under 3 kilometers you will arrive in front of the Basilica dei Fieschi and then to the parking lot where the path 10a started on the outward journey.
We recommend taking some time to visit the Basilica dei Fieschi, built in 1244 by Pope Innocent IV, and also to the small group of houses surrounding it: a truly interesting and evocative place, full of charm and history.
Follow the Lungo Entella again following the same route as the outward journey to return to the starting point.
* Attention: at the time of writing this itinerary (November 2022), a stretch of about 60 meters of this path was covered with brambles and other plants, so much so that you no longer saw the track and made the descent difficult .
Unlock, view and download the trail track by purchasing a map.
Data sheet
Time

From 3h to 4h

Length Km

10 - 15

Difficulty

Medium
100% secure payments