San Rocco di Camogli - Gaixella - Toca - Fornelli - San Rocco
 
Difficulty
Low
Time
2h 30'
Lenght km.
5,100
Signs
+ +
193m - 521m | 515m | 527m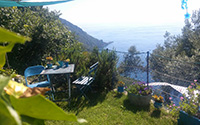 Once you get to the panoramic square of San Rocco di Camogli you take the path that starts just behind the church and immediately crosses the Galletti houses; after a stretch in the open where you can admire the facades of the houses, and along part of the route, it features hand-painted tiles that cover the stages of the Via Crucis, the trail enters the forest with a smooth path.
After about 35 minutes you arrive to Gaixella (410 mt. a.s.l.) where there are tables with wooden benches and a tap for drinking water.
Turning right, you proceed on the flat path (that leads uphill to the Semaforo Vecchio that alternates stretches shaded by the foliage of the trees in the most scenic stretches; shortly after the road begins to climb up to the Paradise locations (435MT. a.s.l.)
Passing a small hut (Rifugio Paradiso, currently on sale) above the road, the signs indicate on the right, a viewpoint that is reached in a few minutes. This is Rocca del Falco , a natural terrace overlooking Camogli, and the entire Paradise Gulf. Returning to the original path, in 10 minutes you arrive to Toca (453 mt. a.s.l.), small crossroads equipped by benches and tables.
Here, with a short detour, birdwatchers can access a small station from which you can observe the many species of birds that inhabit the park.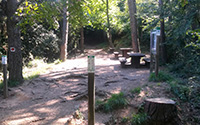 Resuming the march, we take the path on the left which starts go down between hazelnut trees. Though the path is developed almost entirely in the midst of shady valleys, some parts are more open with beautiful views of Punta Chiappa and Camogli.
In Fornelli (238mt. Asl) descent meets the road San Rocco - Batterie, keeping right, the path advances between plots of land that gradually you get closer to the villages, appear increasingly well cared for.
Crossed the houses of La Mortola and Il Poggio, you return to the square of the Church of San Rocco di Camogli (210 mt. a.s.l.).
Become a supporter to view the GPS track
Data sheet
Time

From 2h to 3h
Support us
Thanks to your contribution we could keep the site up to date and providing an ever better service.
By becoming a SILVER supporter you will have the following privileges:
Browse the site without ads banner
Have priority in communicating with our staff
By choosing to become a GOLD Supporter you can also:
View and download the tracks of each route
Have access to the map of all the paths traced by Portofinotrek
Click here and become a supporter right now!