Santa Margherita Ligure - Pietre strette - San Fruttuoso - Base 0 - Felciara - Bocche - SML
 
| | |
| --- | --- |
| Difficulty | Medium |
| Time | 4h 40' |
| Distance km. | 8,800 |
| Signs | + + |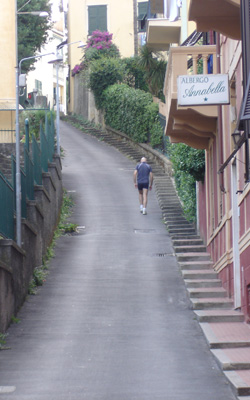 The path starts is in via Costasecca (20mt above sea level) just behind the town hall and after about 300 meters you leave the paved driveway to continue on the right on a pedestrian path.
You will walk along land and private properties and after twenty minutes you will meet a first deviation that leads to Nozarego; continue following the two diamonds (

).
After another 10 minutes, alternating stretches of driveway with gravel path, you arrive at the second detour that always leads to Nozarego; from here on, the path becomes quite steep with often high and irregular steps until you reach "Costa aria" crossing a short detour that leads to the "Croce di San Siro" (2 minutes), an old cross of the 1937.
The route continues climbing and after a few meters crossing the detour to Monte Pollone and after another 15 minutes the path that leads to Dolcina Alta and San Lorenzo della Costa.
The last part of the climb is very steep but just as exciting; you will arrive on the "Pietre Strette - Portofino" path and turning right, you will arrive at Pietre Strette after 5 minutes (600mt above sea level), a place equipped with benches, wooden tables and a tap of drinking water.
The well-signposted path leading to San Fruttuoso starts behind the puddinga rocks and descends with fairly steep bends in the middle of the bush. After about 20 minutes you reach the Caselle spring (here you can get supplies of fresh water) and immediately after, an old mill now restored and used as a farmhouse.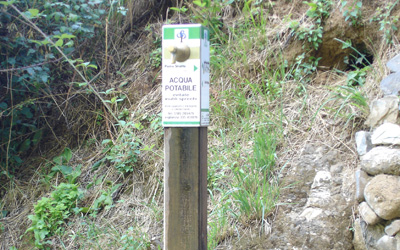 From here, sunny stretches alternate between land planted with olive trees and more shaded stretches that line a small stream, up to the sixteenth-century Torre Doria , it is worth a visit. Another hundred meters to access the church square and then the picturesque village of San Fruttuoso Capodimonte.
For those who love fresh fish, you cannot miss a lunch stop in the restaurants on the beach.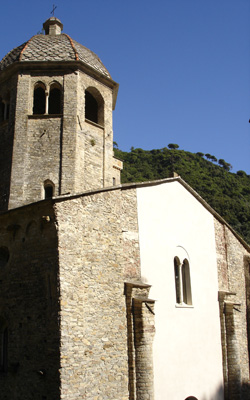 < / p>
The return begins by taking the path towards Base 0 with a fairly challenging uphill path, in some places quite steep; there is certainly no shortage of truly numerous and unique panoramic views, especially over the bay of San Fruttuoso. After about 45 minutes you will arrive at Base "0" (220mt above sea level).
Continuing to climb, take the path on the left and past Costa dei Ghidelli and Ghidelli you will arrive at Felciara (436mt above sea level), characterized, as the name implies, by a thick vegetation of Ferns; here you can take advantage of wooden benches and tables to take a little rest.
Follow the Bocche direction and about 15 minutes later you arrive at the deviation for Pietre Strette (we point out a drinking water tap), going up to the left after another 5 minutes, you will cross the path traveled on the outward journey, which goes down to Via Costasecca, bringing you back the starting point.
Data sheet
Time

From 4h to 5h