How to reach Portofino Vetta, the main entrance of the Park of Portofino.
By a private vehicle
From Recco
From Rapallo
From S. Margherita Ligure
For those arriving from S. Margherita Ligure, the entrance to the park is immediately after the tunnel, turning left; for those arriving from Rapallo, Camogli or Recco the entrance is visible just to the right of the tunnel in Ruta di Camogli.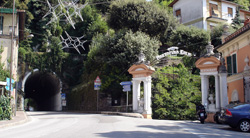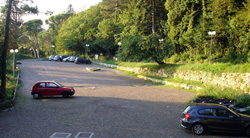 We remind that the transit is not allowed for cars and motorcycles to stretch of road after the car park.
By public transport
For those wishing to reach the summit with a public transport , there is the possibility to use the service provided by APT Tigullio. The area is well served by buses that leave from Rapallo , Santa Margherita Ligure , Camogli and Portofino ( Via Santa Margherita Ligure) .
One explanation is that the nearest station is to Ruta di Camogli from which you can take the path behind the church after about 30 minutes to get to Portofino Vetta .
Alternatively, you can proceed to San Rocco (on foot or by bus ) to start the route from this location.
The bus schedules are available at APT's official web site

How to reach the village close to the Park of Portofino
By car:
Highway A12 Genoa - La Spezia, exit Recco to Camogli, Ruta, Portofino Vetta, San Rocco di Camogli. From the exit continue on the Via Aurelia in direction of La Spezia.

Highway A12 Genoa - La Spezia, exit Rapallo to Santa Margherita Ligure, Paraggi, Portofino.

Remember that, especially in the summer and on weekends, it is difficult to find parking for your car.
By bus:
All locations (except San Fruttuoso di Camogli) are well served by a dense network of buses ATP Tigullio.
By train:
The railway station is in the following locations : Camogli , Santa Margherita Ligure, Rapallo. Timetables are available at Ferrovie dello Stato official web site.
By boat:
Rapallo, Santa Margherita Ligure, Portofino, Camogli, San Fruttuoso , Punta Chiappa be reached by sea , thanks to an efficient transport boat. Schedules and fares are available on the websites of the respective companies:
Servizio marittimo del Tigullio